Call for Papers
INTERNATIONAL CONFERENCE ON MACHINE VISION APPLICATIONS
May 27-31, 2019
National Olympics Memorial Youth Center, Tokyo, Japan
General Chairs


Ryuzo Okada
Toshiba


Norimichi Ukita
Toyota Technological Institute
Program Chairs


Atsuto Maki
KTH Royal Institute of Technology


Paolo Favaro
Universität Bern
The Sixteenth International Conference on Machine Vision Applications will be held in Tokyo, Japan from May 27 through 31, 2019. The conference is sponsored by the MVA Organization, co-organized by IEICE PRMU and IPSJ SIG-CVIM, and endorsed by IAPR. The aim of this conference is to bring together researchers and practitioners from both academia and industry, and to stimulate the exchange of knowledge through intensive discussions on cutting-edge research topics listed below.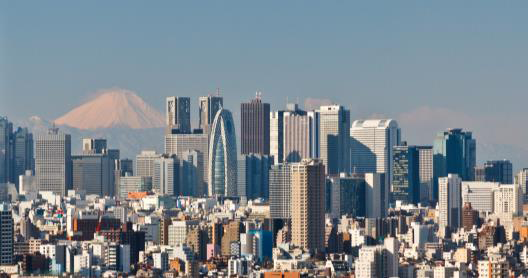 Tokyo's skyscrapers and Mount Fuji
Important Dates
Full Paper Submission Deadline (extended): December 14, 2018 24:00 PST
Notification of Acceptance: February 22, 2019
Camera-Ready Manuscript Deadline: March 22, 2019
Main Topic: Machine Vision and its Applications
Sensing
Vision Sensors
Sensors for 3D / Motion
Shape from X
Optical Phenomenon Sensing
Color / Multiband
Invisible Wavelength Imaging
Registration / Alignment
Calibration
Algorithms
Feature Extraction
Shape / Motion / Deformation Analysis
Change and Background
Tracking
Color / Multiband Analysis
Segmentation
Pattern Recognition
Object Recognition
Statistical Image Processing
Large-Scale Data Analysis
Image Processing System Architecture
Deep Learning
Applications
Factory Automation and Robotics

Visual Inspection
Diagnosis
Assembly
Mobile Robot
Digital Fabrication
Service Robot
Rescue Robot

Intelligent Transport Systems

Traffic Monitoring
Autonomous Vehicles
Driving Safety Assistance

Surveillance

Security Monitoring
Camera Network
Remote Sensing
Underwater

Human Computer Interaction

Face / Gesture / Behavior / Gait
Gaze Analysis
Biometrics
Wearable Computing
First Person Vision
Biomedical

Tomography
Endoscopy
Computer-Aided Diagnosis
Computer Assisted Surgery
Computational Anatomy
Bioinformatics
Nursing Care

Multimedia

Database Archiving and Retrieval
Document
Culture and Heritage
VR / MR / AR
Entertainment

Life

Agriculture
Forestry / Fishery
Civil / Construction Engineering
Commerce
Sports
Fashion
Home
Science
Registration Policy
At least one of the authors of an accepted paper is required to register for the conference and must present the paper at the conference.
Awards
Presented papers will be considered for Best Paper Award, Best Practical Paper Award, and Best Poster Award. Previous award winning papers are available.
Publications
Selected papers will be published in IPSJ Transactions on Computer Vison and Applications (CVA, a peer-reviewed open access journal published under the brand SpringerOpen) in May 2019.
After the conference also, we plan to publish the special section on an international journal. Authors are encouraged to submit their papers to this special section.