Young Researchers Meeting
| | |
| --- | --- |
| Submission due | April 20, 2015 |
| Meeting date | May 20 and 21, 2015 |
| Time | Lunchtime (12:20 - 13:20) |
| Fee | Free, but need a reservation |
| Place | Conference Room 1 on the 7th floor of Miraikan |
Announcements
Since we found there are many duplicate registrations, we will hold the Young Researchers Meeting on
20 May only
.
Since we have received many registrations to the Young Researchers Meeting, we will accept additional 40 people, in total 80 people. We will hold the Young Researchers Meeting on both 20 and 21 May. A participant will attend it on either one of the two days. Although our basic policy is that May 20 is for the first 40 people and 21 is for the additional 40 people, we may arrange participants on each day.
After the notification, we will announce the detail of the meeting.
Overview
The MVA Young Researchers meeting will provide students and young researchers with an opportunity to present and discuss their works. This meeting is also intended to promote networking and friendship between young researchers through communications in a relaxed and informal atmosphere.
Eligibility
All students and young researchers in academic and industrial institutions, who attend the MVA conference, are eligible.
Meeting
Buffet lunch will be provided. Participants can freely interact with others. To promote interaction, participants wear name tags with their name, affiliation, and research abstract.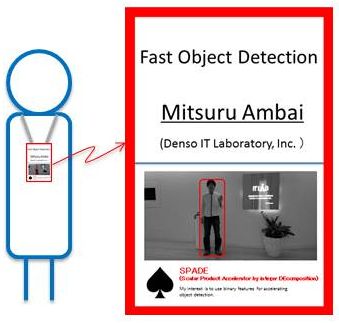 Registration
We will accept the first 50 applicants by April 20. Eligible researchers who would like to participate in Young Researchers Meeting should apply in the registration for the MVA conference. After due date, participants will receive a notification from the organizers until the first week of May. Please create your name tag by using
this format
. E-mail address for submission will be announced in the notification mail.