Technical tour
Date
May 22, 2015 (Friday)
Meeting time
10:00 am
Meeting location
1st Floor (Reception), the main building of AIST Tokyo Waterfront
Tour
10:00-12:00 Lab tour (1)
Digital Human Research Center, National Institute of Advanced Industrial Science and Technology (AIST)

12:10-12:50 Lab tour (2)
KMD Reality Media Project, Graduate School of Media Design,
Keio University

(not include lunch)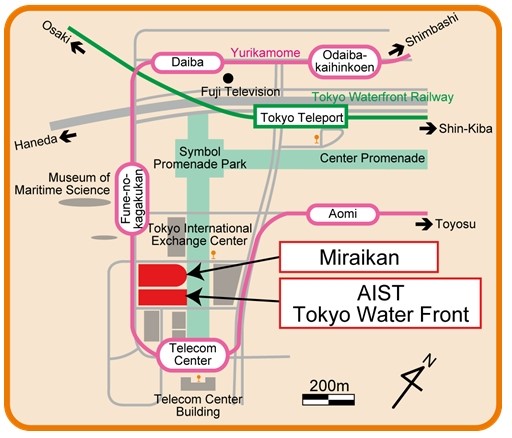 Lab tour (1)
Digital Human Research Group is focusing on modeling the human body, behavior, and everyday life situations in the computer to assist designs of products and services that fit for the individual and society.
Topics:
DhaibaWorks: a software platform for human-centered product design based on digital human models
Gait evaluation system: a simple wearable sensor system that enables evaluation of tripping risk and individual gait pattern
Kids safety design: Kids safety design methods with injury database, injury simulator based on digital human models, design tool-kit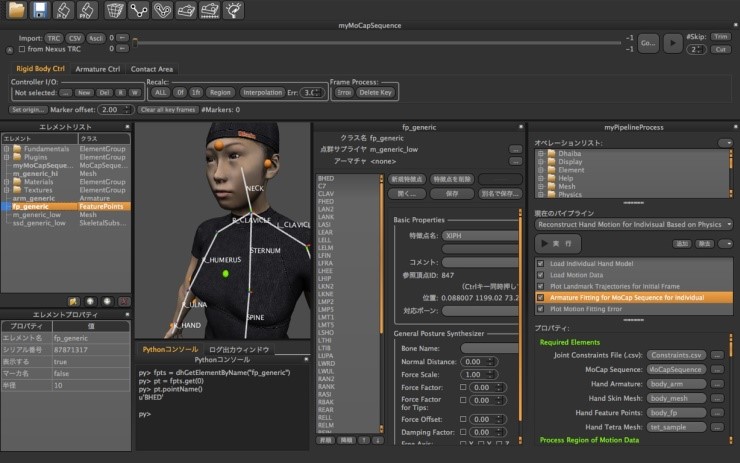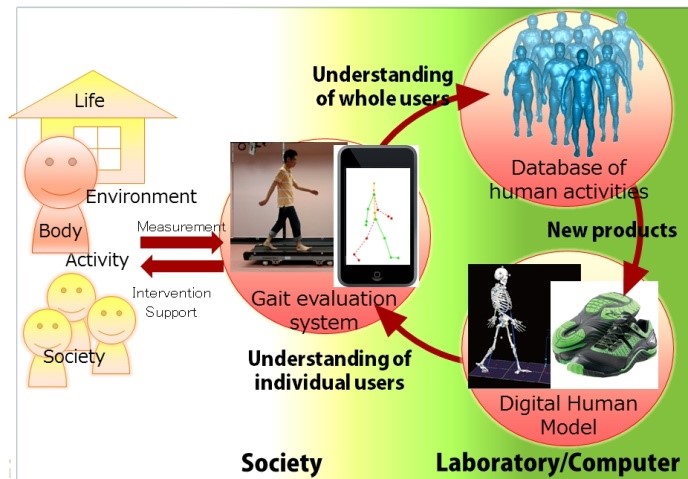 Lab tour (2)
Reality Media Project focuses on design Reality Based Futuristic Experiences by Innovative Interactive techniques. As with hardware based on physics, software based on mathematics, reality is based on human physiology. Human can perceive the world through the inputs of five sensory organs, then processors inside the brain and makes actions using muscles as output. Our research interests are in these properties of input-output functions to design more comfortable, more enjoyable grealityh based on characteristic of sensor organs and perception.
KMD Reality Media Project is co-directed by Prof. Susumu Tachi, Prof. Masahiko Inami, Assoc. Prof. Kouta Minamizawa, Assoc. Pof. Kai Kunze, Asst. Prof. Charith Fernando and Asst Prof. Yuta Sugiura.
Topics:
Telexistence: Our latest Telexistence system gTelesar 5h enables a user to bind with a dexterous robot and have a real-time sensation of being somewhere else, and feel the robotfs body through visual, auditory and haptic sensation.
Haptic Media: Haptic Media Project allows a user to Create, Search, Express, and Convey the gSense of Touchh and experience haptic sensations such as the texture or weight of an object, or the warmth of another person.
Living Lab: Living Lab Tokyo is a testbed for innovate smart solutions in order to improve the quality of human lives to create the best service or products and to construct fundamental technologies/techniques for gself-sufficient innovationh for the local people and manufacturers.